In 1995 I exhibited at the Wyomissing Institute of Fine Arts in Reading, Pa.

A graduate of DePauw University, and the Iowa Writers Workshop, I teach writing at Community College of Philadelphia.

I live with my wife and children near Kutztown, Pa., where I renovated an old stone farmhouse, and built a workshop. I've made tables, cabinets, and beds for our home, and on commission for others. Over the years, my interest in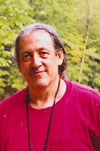 woodworking turned into a desire to make sculptural constructions.
From 1981 to 1991, I was on the faculty of Bard College's Institute for Writing & Thinking, and taught in residency programs for high school and college students. As an Institute Associate, I offered workshops for teachers in metaphorical and visual thinking.
In 1992 I began to devote more time to assemblage.

Steven & Kathleen Conrad
55 Kutz Road Fleetwood, PA 19522
Tel: 610-944-9232
Email: art@figure8art.com